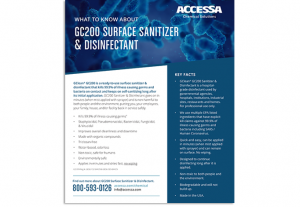 Amidst a proliferation of inquiries from customers and many others, due to the pandemic, Accessa has begun distributing GClean's® GC200 Surface Sanitizer & Disinfectant. GClean's GC200 is a ready-to-use surface sanitizer & disinfectant that kills 99.9% of illness causing germs and bacteria on contact and keeps on self-sanitizing long after its initial application. GC200 Sanitizer & Disinfectant goes on in minutes (when applied with sprayer) and is non-harmful to both people and the environment, putting you, your employees, your family, house, and/or facility back in service safely. For professional use only.
GClean GC200 Surface Sanitizer & Disinfectant uses a unique and novel nanotechnology to combine a two-headed active ingredient.  It instantly kills the germs and viruses with chemical ingredients and the becomes an integral mechanical part of any surface.  GC200's unique solution causes microbes to be drawn to nano-spikes where they are pierced on contact, physically (not chemically) destroying the cell wall. GC200 does the job mechanically, and has the distinct property of remaining active for over 30 days*. GC200 Surface Sanitizer & Disinfectant is environmentally-friendly, with no harmful chemicals released into the environment.
*Timeframe varies based on the surface (30 days on non-tactile surfaces) and environment surface exposed to.
Kills 99.9% of illness-causing germs* for up to one month

has a proprietary ingredient infused, which when sprayed on any surface, creates a clear, colorless, elastic, microscopic intermolecular cross-linking. Once the surface is treated and allowed to air dry, it creates a "nano spike" elastic barrier, so when bacteria and viruses land on this spiked surface, this defense barrier pierces the cellular wall, eliminating the replication and spread of germs and viruses.

Staphylocidal, Pseudomonacidal, Bactericidal, Fungicidal, & Virucidal
Improves overall cleanliness and downtime
Made with organic compounds
Triclosan-free
Water-based, OdorlessNon-toxic, safe for humans
Environmentally safe
Applies in minutes and dries fast, no wiping

Has a positive charge so it can be sprayed or dispersed using a traditional sprayer or a cold fogger without the use of an expensive electrostatic spray/fog dispersing head.
will not discolor surfaces, upholstered fabrics, or clothing.

Made in the USA
US EPA Reg #: 6836-152-84429 & 6836-289-84429