LOCATION: Indianapolis, IN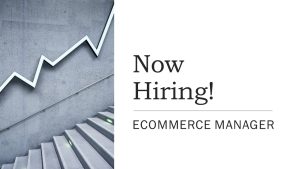 POSITION: Ecommerce Manager
ACCOUNTABLE TO: Vice President, Accessa Marketplace Solutions
POSITION DESCRIPTION:
Accessa is looking for a highly competent Ecommerce Manager to lead ecommerce efforts within Accessa Marketplace Solutions, working with a cross-functional team to drive onsite retention and acquisition.   The Ecommerce Manager will be a key member of the Accessa Marketplace team, developing strategies to rapidly execute, iterate and optimize the onsite funnel and marketing tactics in a dynamic competitive environment.
In this role, you will work directly with various departments across the organization to develop a retention strategy to optimize the on-site experience.  To ensure success as an ecommerce manager, you should remain knowledgeable about relevant trends and innovations in ecommerce.  Ultimately, a brilliant ecommerce manager will endeavor to enhance their skillset by continually learning about adjacent technologies and techniques that might improve the Accessa Marketplace Solutions offering, and collaboration between its departments. You will be a model of excellence, a creative problem-solver and a thought leader who sets the tone of high performance within the organization.
SPECIFIC DUTIES & RESPONSIBILITIES:
Devise and implement strategies and harness sales-related insights, prevailing standards, and novel developments to encourage sales on online marketplace.
Represent AMS on a cross-functional team responsible for the end-to-end experience on the Marketplace site.
Direct software developers, copywriters, and graphic designers to ensure careful adherence to predetermined strategies.
Reviewing the security of checkout pages and payment procedures.
Work with marketing and media teams to ensure optimal destinations for media, making recommendations on how to improve the customer experience. Creating promotional offers and checking to see that these are uploaded precisely.
Reviewing copy and legal disclaimers to verify their accuracy.
Analyzing traffic to inform website maintenance and the effectiveness of marketing strategies.
Examining sales-related metrics to inform restocks.
Creating frameworks that transform our social media sites into highly profitable platforms.
Checks completed work by vendors and contractors.
Other duties in support of Accessa Marketplace operations
REQUIREMENTS:
Degree in marketing management, business, information systems/informatics, or similar.
5+ years' experience in ecommerce; merchandising for a high-traffic site preferred.
Adept at handling multiple competing priorities and duties in a fast-paced, results driven, changing environment, with minimal daily oversight.
Exceptional verbal and written communication skills; proven ability to communicate effectively and influence all levels of staff.
Demonstrable track record of devising sales-enhancing strategies.
Exceptional consulting and quality assurance abilities.
Ability to tackle the demands of ever-evolving technological implements with ease.
Ability to travel 20% of time.
BENEFITS INCLUDE, BUT NOT LIMITED TO:
Paid Vacation, PTO, Holidays, & Birthday Day Off (27.5 paid days off in first full calendar year)
Medical and Dental Insurance
Life Insurance
Short & Long Term Disability Insurance
401k Plan with matching
Competitive wage rate
Bonus opportunity
Home every night
Hard working yet fun work environment
Please send resume to: jobs@accessa.com