LOCATION: Elkhart, IN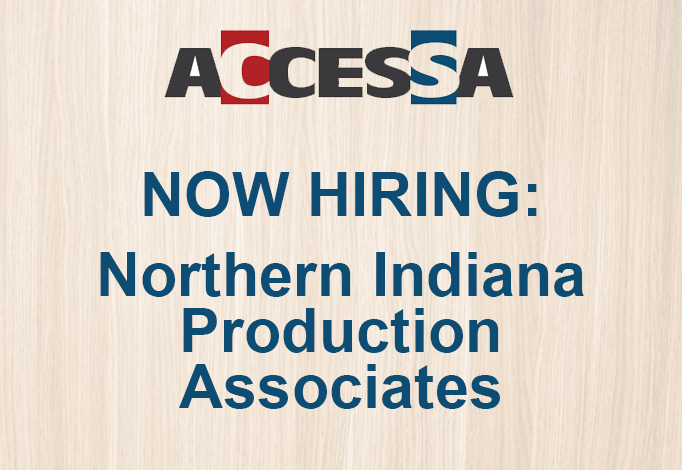 POSITION: Production Associate (2 openings available)
DEPARTMENT: Operations
ACCOUNTABLE TO: Operations Manager
MAIN FUNCTION: Responsible for ensuring the quality of ACCESSA products to the customer with consistent, positive results.
SPECIFIC DUTIES:
Maintain a positive, can-do attitude and a willingness to live the values of Accessa.
Schedules and fulfills all work orders/production in an accurate manner within acceptable production lead times.
Works with lab technicians and customer service to ensure clear communication throughout order fulfillment process.
Verifies material and quantities received and shipments made versus packing slip and orders.
Completes all required paperwork neatly and correctly on the same day as physical receipt.
Stores receivables in their proper location on a timely basis.
Stages all material to be shipped in their proper location on a timely basis.
Ensures containers to be shipped are clean and neat before staging for shipment.
Responsible for the orderliness and housekeeping of the warehouse.
Ensures all shipments and paperwork meet DOT, OSHA and EPA regulations.
Responsible for quality control of ACCESSA products.
Has strong verbal and written communication skills.
Assist other areas as work volume warrants.
Other duties as assigned by management.
Compensation and Benefits include but not limited to:
Paid vacation, holidays, and birthday day off
Paid Time Off
Health, Dental, Vision Insurance benefits
Life Insurance
Short & Long Term Disability Insurance
401k Plan with competitive employer matching plan
Please send resume to jobs@accessa.com.