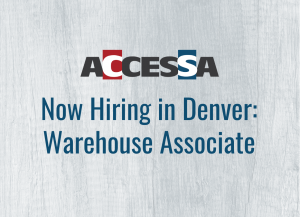 TITLE: Warehouse Associate
LOCATION: Denver, Colorado branch (2705 South Raritan St., Englewood, CO 80110)
DEPARTMENT: Operations
REPORTS TO: Warehouse Manager
EDUCATION: High School or Equivalent
MAIN FUNCTION:  Responsible for production/warehouse duties as part of Accessa's goal to manufacture and distribute high quality industrial paint products in an efficient, safe manner.
SPECIFIC DUTIES:
Responsible for stock order fulfillment.
Assists in high quality preparation and fulfillment of production items.
Responsible for work-off of inferior products where possible.
Meets all regulatory requirements on products approved thru Q.C.
Has good communication skills.
Maintains cleanliness and housekeeping of work area.
Assist other areas as work volume warrants.
Other duties as assigned by management.
Benefits include but are not limited to:
Paid vacation, holidays, and birthday day off
Paid Time Off
Health, Dental, Vision Insurance benefits
Life Insurance
Short & Long Term Disability Insurance
401k Plan with competitive employer matching plan
Competitive Wage Rate
Bonus Opportunity
To request an application, submit a resume, or receive more information, contact jobs@accessa.com. For general questions, contact Les Yoder at 330-231-2931.