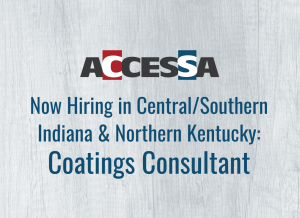 POSITION: Coatings Consultant – Central/Southern Indiana & Northern Kentucky
DEPARTMENT: Sales
REPORTS TO: Sales Manager
MAIN FUNCTION: Responsible for maintaining existing sales and growing the business through the cultivation of new customers in an ethical and professional manner.
 SPECIFIC DUTIES:
Maintain existing customers through consistent contact via routine sales calls, providing a high level of sales and technical support.
Assist Management in obtaining market data to best determine what prospects to target and the means in doing so.
Prospect all leads to initiate sales cycle and close new business in a timely manner.
Conduct follow-up service calls to all accounts to make certain they are satisfied with all agreements reached during sales approach.
Provide price quotes to all new and existing accounts when requested.  Pricing is determined by Sales Manager in coordination with the Coatings Consultant.
Provide technical information as requested or in a timely manner.
Provide territorial sales forecast on an annual basis and provide updates on an as needed basis.
Perform all assigned duties with a minimal amount of supervision.
Communicate through Customer Service all orders, expedited requests and laboratory needs.
Submit call reports and customer complaints on a timely basis to customer service and corporate management.
Conduct all business transactions in a professional manner with high ethical standards.
Please send resume to jobs@accessa.com.