LOCATION: Denver,CO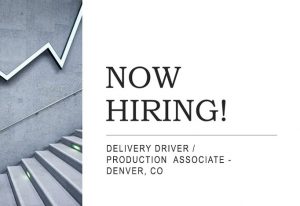 POSITION:  Full-Time Delivery Driver / Production Associate
DEPARTMENT: Operations
ACCOUNTABLE TO: Branch Operations Supervisor
MAIN FUNCTION:
Responsible for delivery of Accessa products to designated customers while representing the Company in a professional manner. Additionally, assisting in the warehouse on order fulfillment, stock management, shipping and receiving.
SPECIFIC DUTIES:
Organizes and loads truck for product delivery.

Routes daily deliveries.

Unloads orders per documentation (packing slip).

Represents Company and interacts with customers in a

professional manner.

Candidates must have a good driving record and warehouse

experience.

Meets all DOT, OSHA and EPA regulations, including CDL "C" driver's license with HAZMAT endorsement.

Maintains the inside of the cab to include (but not limited to) the disposal of all trash and general cleanliness of the cargo area.

Maintains maintenance of truck.

Reports any damage or traffic violations to his/her supervisor.

Operates vehicles in a cost-effective, safe manner.

Maintain warehouse in a clean, orderly and safe manner.

Able to lift 70(+-) lbs. from floor to waist height.

Assist in production when workload warrants it.

Other duties as assigned by management.
Benefits include:
Paid vacation and holidays
Birthday day off
PTO
Partially sponsored medical, dental, vision insurance
Life insurance
Partially sponsored short & long term disability insurance
401k plan with competitive Accessa matching program
Competitive wage rate
Bonus opportunity
Home every night
Hard working yet fun work environment
Please send resume to jobs@accessa.com.