LOCATION: Denver,CO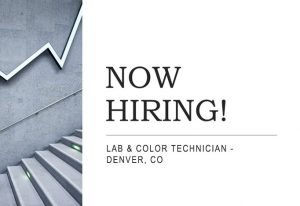 POSITION: Lab & Color Technician
DEPARTMENT: Lab Services
ACCOUNTABLE TO: Branch Operations Supervisor
MAIN FUNCTION:
Responsible for ensuring the quality of Accessa products to the customer with consistent, positive results, including new color matching/development, product testing, production/order fulfillment, and technical support to customers in the wood, metal, and specialty coatings market, particularly in the OEM environment.
SPECIFIC DUTIES:
Responsible for quality control of Accessa products.

New color development for liquid wood and general industrial metal coatings.

Capable of producing show grade panels for customers.

Performance of lab testing thru the Lab Work Sheet process/Color match forms as requested by the customer and sales department.

Production support.

Responsible for work-off of inferior products where possible.

Meets all regulatory requirements on products approved thru Q.C.

Maintains cleanliness and housekeeping of work area.

Other duties as assigned by management.
Benefits include:
Paid vacation and holidays
Birthday day off
PTO
Partially sponsored medical, dental, vision insurance
Life insurance
Partially sponsored short & long term disability insurance
401k plan with competitive Accessa matching program
Competitive wage rate
Please send resume to jobs@accessa.com.