LOCATION: Elkhart, IN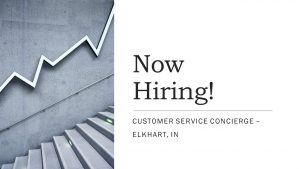 POSITION: Customer Service Concierge
DEPARTMENT: Operations
ACCOUNTABLE TO: Corporate Operations Manager
MAIN FUNCTION:
The Customer Service Concierge has a primary goal of providing white glove service to
Accessa's customers. The CSC manages the entire order entry and management process, including answering all customer questions and providing follow up to deliver on the utmost expectations.
The perfect fit of a Customer Service Concierge:
You exude warmth, energy, and charisma.
You love meeting new people and leave a positive impression on them.
You thrive on the unexpected and perform patiently under stress and pressure.
You have a passion for customer service and helping people.
You nurture and help build upon all customer relationships.
SPECIFIC DUTIES:
Manage incoming phone calls, emails, faxes
Sales order entry
Provide status of sales orders to customers
Sales order invoicing
Investigate complaint reports
Maintain new color match log and process
Maintain customer contract pricing
File and maintain closed sales order and correspondence files
Maintain SDS & data sheet control
File and monitor shipping damage claims with carriers
Provide internal sales support to outside sales team
Provide administrative support to Management Team as necessary
Benefits include:
Paid vacation and holidays
Birthday day off
PTO
Partially sponsored medical, dental, vision insurance
Life insurance
Partially sponsored short & long term disability insurance
401k plan with competitive Accessa matching program
Competitive wage rate
Performance bonus opportunity
Requirements:
High school or equivalent (Required)
Experience:
Customer Service: 2 years (Preferred)
Please send resume to jobs@accessa.com.