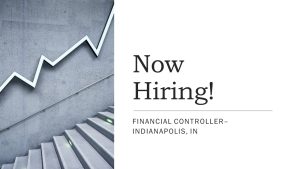 POSITION:  Financial Controller
DEPARTMENT: Corporate Accounting & Finance
ACCOUNTABLE TO: President
ABOUT ACCESSA:
Based in Indianapolis, IN, we are a wholesale distributor of industrial paints and
chemicals focused on servicing the OEM and professional contractor markets in the
Midwest and beyond. We pride ourselves on delivering the highest quality products
and service to our diverse customer base while tending to a relaxed yet professional,
team-focused work culture. We are seeking a Financial Controller to join our team
and help drive our business to even greater success.
PRIMARY FUNCTION:
The Financial Controller will play a crucial role in leading the accounting and
financial operations and maintaining the financial health of the company. The
Financial Controller will ensure accurate and timely accounting and financial
information and implement sound financial strategies to support Accessa's growth
and profitability.
SPECIFIC DUTIES:
Lead and mentor the accounting team, fostering a culture of excellence,
collaboration, and continuous improvement. Provide training and development
opportunities to enhance the team's skillset.
With the support of the accounting team, manage all accounting operations
including Accounts Receivable, Accounts Payable, General Ledger management,
and all month and year-end period close.
Prepare and present timely and accurate financial statements, including income
statements, balance sheets, cash flow statements, financial forecasts, and other
relevant financial reports to the management team.
Along with the President, develop and oversee the budgeting process, working
closely with department heads to establish annual and quarterly budgets and
provide regular analysis of actual performance against budgeted targets.
Maintain a robust system of internal controls to safeguard company assets,
ensure compliance with financial regulations, and prevent fraudulent activities.
Coordinate with external auditors and tax advisors to facilitate annual financial
audits and tax filings, ensuring compliance with all laws and regulations.
Oversee cash flow management, optimize working capital, and monitor all
treasury management activities, including bank reconciliations.
Monitor and analyze expenses, identifying cost-saving opportunities and
implementing cost-control measures while maintaining quality standards.
Calculate and file state sales tax returns.
Manage through delegation the general human resource activities including
payroll, 401k and HSA reporting, new hire onboarding, and, in coordination with
outside consultants, benefits administration.
Performs other related duties as assigned.
QUALIFICATIONS:
A minimum of a bachelor's degree in accounting, finance, business
administration, or related field is required.
At least 7 years of experience in an accounting or financial position, preferably in
a distribution or manufacturing related industry.
Experience in staff accounting or controller duties. CPA designation preferred
but not required.
Strong analytical and highly accurate math skills, and experience interpreting a
strategic vision into an operational model.
Strong supervisory and leadership skills.
Excellent time management skills with a proven ability to meet deadlines.
Proficient in using MS Office and financial management software (e.g. Sage).
Strong interpersonal and presentation skills.
We are an equal opportunity employer and value diversity at our company. We do
not discriminate based on race, religion, color, national origin, gender, sexual
orientation, age, marital status, veteran status, or disability status.
BENEFITS:
Competitive salary plus bonus program.
Hybrid office/home work schedule, if desired.
Health (medical, dental, vision), disability, and life insurance.
401(k) retirement program with company match.
Paid time off including:
PHYSICAL REQUIREMENTS:
Prolonged periods sitting at a desk and working on a computer.
Must be able to lift up 15 pounds at times.
Ability to travel as needed.
To apply, please submit by email your resume including professional references to
jtodd@accessa.com.