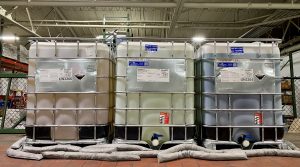 Bonderite M-NT 1 and M-NT 2 use nanotechnology as a greener alternative to traditional iron phosphates. Formulated to increase adhesion to and corrosion resistance of steel, zinc, and aluminum surfaces – their ability to operate at low temperatures reduces energy costs and because they're free of phosphate and regulated heavy metals, they also reduce waste removal costs.
With many states going phosphorous-free (i.e. Illinois and Wisconsin), consumers are taking a new look at these products.
"More people are taking a serious look at this technology because there's been enough history of proven, successful use with them," said Dennis Heimbrodt, Technical Chemicals Consultant for Accessa. "When it comes to paint adhesion and corrosion protection, it outperforms the iron phosphates."
A more environmentally-friendly alternative to traditional iron phosphates with better performance and lower costs – Bonderite M-NT 1 and M-NT 2 are well positioned in today's market.