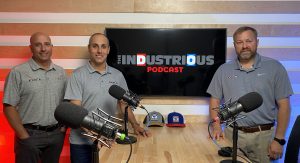 Accessa Operations Manager Les Yoder was born and raised in an Amish community in Holmes County, Ohio.
He started his own custom finishing business, sold it, and began in production with Accessa (then Paints & Solvents) 21 years ago.
From the challenges of operating during the COVID pandemic to new investments in equipment and his number one goal for the remainder of the year – Yoder says the current environment is like nothing he's ever seen.
"It's a different world out there."
For more, tune into episode 3 of The Industrious Podcast.
To subscribe to The Industrious Podcast, go to the Accessa YouTube channel or download it anywhere you get your podcasts. And don't forget to subscribe and enable notifications so you'll be alerted when new episodes drop.
#beindustrious