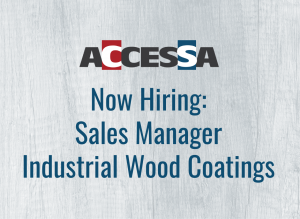 TITLE: Sales Manager – Industrial Wood Coatings
DEPARTMENT: Sales
REPORTS TO: President
EDUCATION: Bachelor's Degree required
EXPERIENCE: 5 – 8 years + of direct hands-on sales and sales management experience with a major emphasis on training, motivating, and providing leadership for an aggressive, customer centric sales team. Background in industrial/OEM sales strongly preferred.
JOB DESCRIPTION:  The Industrial Wood Coatings Sales Manager directs the sales of the company's products to its customers, which includes establishing sales territories as well as setting objectives and key results (OKRs). Serving as the guiding hand for the sales team, the sales manager develops training programs and strategies for the sales team to operate effectively, and holds sales team members accountable to surpass short and long term goals. The sales manager works closely with the marketing department to identify new customers, product needs, and markets. The sales manager is responsible for the supervision of the sales team including recruiting and hiring new sales team members and accountability, discipline, and termination of all sales team members.
SPECIFIC RESPONSIBILITIES:
Develop a professional sales team which can consult the customer in a manner consistent with the company's core values.
As a member of the management team, serve an active role in developing the annual sales goals, including establishing and managing the OKRs for the sales department and each sales team member.
Lead the development and successful execution of annual territory business plans to meet and exceed the company's annual sales goals.
Oversee the onboarding of all new accounts and provide supervisory assistance in case of any problems, complaints, emergencies, etc.
Provide annual performance evaluations for the sales team and develop and implement personal growth plans for each team member.
Work with the marketing department to develop and implement sales programs and marketing strategies to support the sales team and their growth efforts.
Work with the president and management team in managing the company's basic sales philosophy, including pricing, policies, objectives, sales quotas, and annual budget creation.
Summarize all sales activity in monthly reports and distribute to the management team.
Stay actively informed of all sales and marketing activities of the company's competitors.
Lead and protect the company culture by living the company core values.
Perform other related tasks such as representation at regional events, support of corporate initiatives, etc, as requested or assigned.
Travel Requirements: While the sales manager establishes their own schedule, it is expected that the sales manager actively work in person with the sales team and customers on a regular basis. The sales manager will travel regularly within the company's primary geography and, on average, spend one to three overnights per work week.  The company's current primary geography includes Kentucky; Illinois; Indiana; Michigan; and Ohio.  Travel to Accessa's Denver, CO market will be more limited.
Residency Restriction: Accessa Coatings Solutions' corporate office is in Indianapolis, IN. Accessa has production/warehouse facilities in Arthur, IL; Chicago, IL; Denver, CO; Elkhart, IN; Indianapolis, IN; and Millersburg, OH. It is preferred the sales manager live in Indianapolis, though not required so long as the place of residence is within the primary geography of Illinois, Indiana, Kentucky, or Ohio.
CONTACT: Resumes and other inquiries should be submitted to Joseph Todd, President, at jtodd@accessa.com or through the applicable job posting site this job description is found on.
ACCESSA CORE VAUES:
Deliver WOW through service.
Treat others as you wish to be treated.
Embrace and drive change – be innovative.
Create and have fun.
Build open and honest relationships
Pursue growth and learning.
Communicate – speak openly and listen intently.
Build a positive team and family spirit.
Be passionate and determined.
Be humble