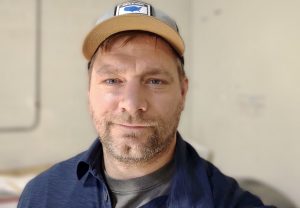 Jack Andrews grew up in the state of Washington and moved to Chicagoland for graduate school at Wheaton College.
After painting his way through school, he stayed in the area after graduation and started his own painting business.
"I specialized in high-end interior finishing," he said. "I did a lot of cabinet refinishing and started using industrial wood finishes. I did a lot with high-end paint brands. Some of the projects I did were featured in 'Traditional Homes and Gardens.'"
Now married with a six-month-old son, he decided it was time for a change.
"I don't think it was ever the dream to run my own painting company," he said. "I did a lot of cool things and I didn't really think I had anything more to prove and I wanted a better life than working non-stop."
It was the product line that attracted him to Accessa.
"I'm a little bit of a coating nerd. It's fun to come up with new ways of doing things and Accessa has the toolkit and the products that are on the higher end of things," he said. "I figured coming from my background and dealing with high-end finishing, it made sense to find a company that sells high-end products – something that's quality-driven, not necessarily price or volume-driven."
In his role as branch operations supervisor, Andrews now oversees Accessa's Chicago branch, where he'll also do technical consulting and see customers.
"Chicago is one of those markets where we're making significant investment from a facility standpoint, but also in personnel to better attack that area and grow our market share," said Joe Todd, President and Principal at Accessa.
Todd appreciates Andrews for his painting background and his entrepreneurial experience.
"We've seen things from this perspective, but maybe he's seen some different things that will allow him to bring a new perspective that maybe we haven't thought of," he said. "And also, a level of empathy. He knows what it's like to be in the position of making these decisions."
Right now, he has a bit of a learning curve – with new systems, products, and customers.
But when he's ready, Andrews will hit the ground running.
And his mission is clear.
"Let them know that we're willing to get out there and do what it takes."
Welcome to the team, Jack!
A family of proven products that perform at the highest level. An industry-leading brain trust of knowledge, creativity, and know-how. Since 1979, Accessa has offered high-quality coating, chemical, and equipment solutions to help customers of all size improve their product and their bottom line.